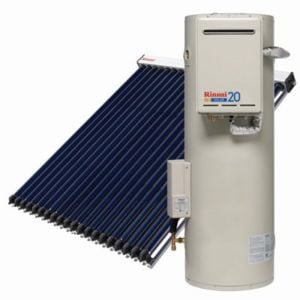 Free 5 Year Service for all Solar Hot Water Systems purchased
Replacement of Sacrificial Anode (if applicable)
Replacement of PTR Valve
Check AMP draw and resistance test on electric booster
Check and replace fluids (if applicable)
Clean and maintain collectors
Solar check list and condition and report available if requested
Completed by one of our qualified Hot Water Specialists
Normally valued between $280 – $430
Conditions apply:
Available for all solar hot water systems purchased between 1/4/2018 – 30/6/2018
Must be used between 5 years to 6 years from installation date
Any extra parts that need replacing that are not listed above are chargeable
Rinnai Solar Promotion – Receive $200 Gift Voucher
Receive a $200 gift voucher when you purchase the following systems between 1st April 2018 – 31st May 2018:
Rinnai Prestige 330 Litre Closed Couple Solar hot water system
Rinnai Prestige 315 Litre 30 Evacuated Tube Split Solar hot water system
Rinnai Sunmaster 315 Litre 2 panel Split Solar hot water system
CONDITIONS APPLY:
Available for systems installed between 1st of April – 31st of May 2018.
System must be supplied and installed by Hot H2o Pty Limited.
Promotion is only available for the Rinnai Prestige 330 litre closed coupled Solar hot water system, Rinnai Prestige 315 litre 30 evacuated tube solar hot water system and the Rinnai Sunmaster 315 litre 2 panel split Solar hot water system.
Proof of purchase and installation is required.
Only one gift card per invoice can be redeemed.
All gift cards must be claimed by the 30th June 2018, otherwise you forfeit your gift card.