Tips For Hiring A Plumber
Finding a trustworthy Plumber can be a task, you want to know that you are getting the best person for the job at the best price. To do this it requires digging a little deeper than accepting the first or cheapest quote. Here are some tips we have put together for you: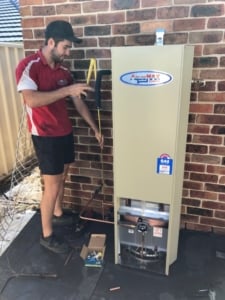 #1 – A VALID LICENCE
If you are using a plumber, it is important to check that they have a valid contractor licence. You can do this by visiting https://www.service.nsw.gov.au/transaction/check-builder-or-tradesperson-licence. Most businesses will display their licence number on their website or business cards. It is more important to verify a plumber's licence rather than their qualifications, as the licence could have been cancelled or disqualified in the event of a breach.
#2 – CURRENT INSURANCE
Ask to see a current certificate of insurance. Public liability insurance is compulsory and will cover any damages that occurs to your property or any third-party injuries, caused by the contractor during their work. A plumber who does not have insurance is not taking a professional approach to their business.
#3 – GET IT IN WRITING
You are entitled to ask for a written quote, it is wise to request a quote from more than one company so you can compare them. It will help you make a more informed decision, by knowing what you are getting and for what price, before you commit to a plumber. Information that should be included in a quote are things like what is being installed, where it is being installed, what is included and not included. Occasionally, there will be unforeseen additional work required that may not be quoted for, when something unexpected is discovered that requires extra labour or materials, but the plumber should let you know before continuing work. Quotes can also help you pick the good plumbers and not the bad ones. Quotes should have listed an ABN and/or licence number. The quote should be detailed about the work to be carried out. If it doesn't have this sort of information or is vague then the alarm bells should be ringing.
#4 – REVIEWS
Reviews can be good and bad, don't believe everything you read as some plumbers may post fake reviews to ensure that their potential new customers will see outstanding reviews. This is more common on their own websites. It is always best to check multiple sources, such as Facebook and Google.
#5 – PAYMENT
It is not wise to pay any business for work that has not been started. Final payment shouldn't be requested until the job is complete to standards. Be wary of any plumber insisting that you pay by cash for a cheaper rate. It might feel like you are beating the tax man, but it is important to obtain a receipt! Especially if a product or part has been supplied for the job and comes with warranty. Without a receipt, there is NO proof of purchase and if something is to go wrong with your part or product.
#6 – PROFESSIONALISM
The appearance of a person is important, if they have put time and care into their appearance and mannerisms than it is more likely they will apply the same attitudes to their work. When searching a plumber online be wary of those behind a string of different ventures or multiple company website trading under the same ABN. This shows they may be trying to cover something up such as failings from previous businesses. It is always safer to use specialised plumbers as they are highly experienced and focused on that one field E.g. Hot water, water supply, drainage, maintenance plumbing, gas fitter, or roof plumber.