What is a Tempering Valve?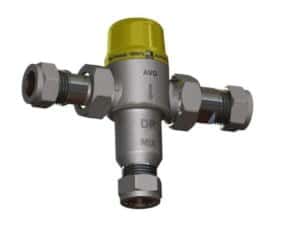 The average temperature for a domestic hot water system is set between 60-70°C, by Australian law it cannot be set below 60°C. Having your tank this hot helps prevents the growth of harmful bacteria's such as legionella.
But…. the hotter the water the more chance of scalding. A much safer temperature for domestic hot water is 50 ºC. This is because water at a lower temperature takes longer to cause injury. For example:
At 60 ºC, it takes one second for hot water to cause third-degree burns
At 55 ºC, it takes 10 seconds for hot water to cause third-degree burns
At 50 ºC, it takes five minutes for hot water to cause third-degree burns
For this reason, Fair Trading NSW has made it mandatory to have a tempering valve installed at the hot water system to deliver hot water at 50ºC for all bathrooms and 45ºC for childcare and elderly care facilities
A tempering valve mixes your hot and cold water to deliver a tempered water to a maximum of 50°C. Tempering valves have a temperature sensitive element which adjusts the mix depending on the temperature of the incoming water flowing through the valve. The valve is designed to maintain a constant outlet temperature, reducing the risk of accidental scalding.
Tempering valves don't last forever. Their life span can vary from 5-10 years, depending on the brand, how often the valve has been serviced and the amount of debris the valve is exposed to. The best way to lengthen the life of your tempering is to:
service your tank every 1-3years (we flush and test all components of your hot water system)
Install an inline filter, to help remove debris such as dirt, mineral salts, rust and corrosion before they enter the hot water system.
Replace any faulty parts immediately, this way you do not add extra stress to your system or other parts.
You should replace your tempering valve if:
you are having a new hot water system installed we recommend you replace all parts. It is nice to know that everything is new and that you won't have to think about it for a little while. You don't want to be adding any extra stress to your brand new hot water system and risking that you might have to call someone out 6 months later to replace parts.
If you are getting luke warm or cold water but you are still getting hot water out of your relief valve
Hot H2o can help you, whether you want more information on tempering valves, want to organise a service for your hot water system or if your system is showing some or all the signs, we can help you diagnose your problem. You can call one of our experienced hot water specialists on our
FREECALL number 1800 689 919
or if you would prefer you can call our
local number (02) 47 294 787